COMMERCIAL GARAGE DOORS & ACCESSORIES
DURABLE. SERVICEABLE. HASSLE FREE.
Overhead Door™ Brand provides commercial garage doors to fit a variety of needs. Our knowledgeable staff will help you find the perfect solution for your business, from sturdy models that can withstand heavy use every day all the way up through secure systems with easy operation in mind!
A wide range options are available when it comes time make sure your facility is safe and protected – we know what matters most about these important investments: durability (to protect against breaking), and safety features like automatic openers or key pad access so no one enters without permission.
Commercial and industrial garage doors are designed to last, so you can trust that your Overhead Door™ Brand commercial or residential product is backed by an industry-leading Red Ribbon Distributor.
COMMERCIAL GARAGE DOOR TYPES
Thermacore® Garage Doors
Our premier insulated sectional steel door – ideal for applications that need the best in thermal efficiency.
Sectional Steel Garage Doors
A complete selection of steel and insulated steel doors with the panel profiles, gauges, track styles and hardware you want.
Aluminum Glass Garage Doors
Designed for applications that need visual access and light infiltration in a handsome style. Ideal for service stations, fire stations and retail environments.
Advanced Service Doors
Designed for the most demanding requirements, these secure and durable rolling steel service doors offer the high cycles of a high-performance door.
Rolling Steel Garage Doors
With a wide range of options available, these doors ensure your sideroom and headroom requirements are met with ease.
Fire-Rated Doors
Designed to close automatically in the event of a fire, these rolling steel doors meet demanding UL and FM fire-safety standards.
Security Grilles
Our side-folding and upward-coiling security grilles offer an attractive solution for the reliability and peace-of-mind you need for your business.
Counter Doors
Overhead Door ™ rolling counter doors provide a multitude of attractive solutions for smaller openings to 20′ wide and 9′ high.
Wind Load Garage Doors
When you add wind load options to your commercial or industrial overhead door, you also get peace of mind during times of high winds from hurricanes and extreme conditions.
High Speed Fabric Doors
Interior and exterior high speed fabric doors that provide the utmost in efficiency, reliability and return on investment.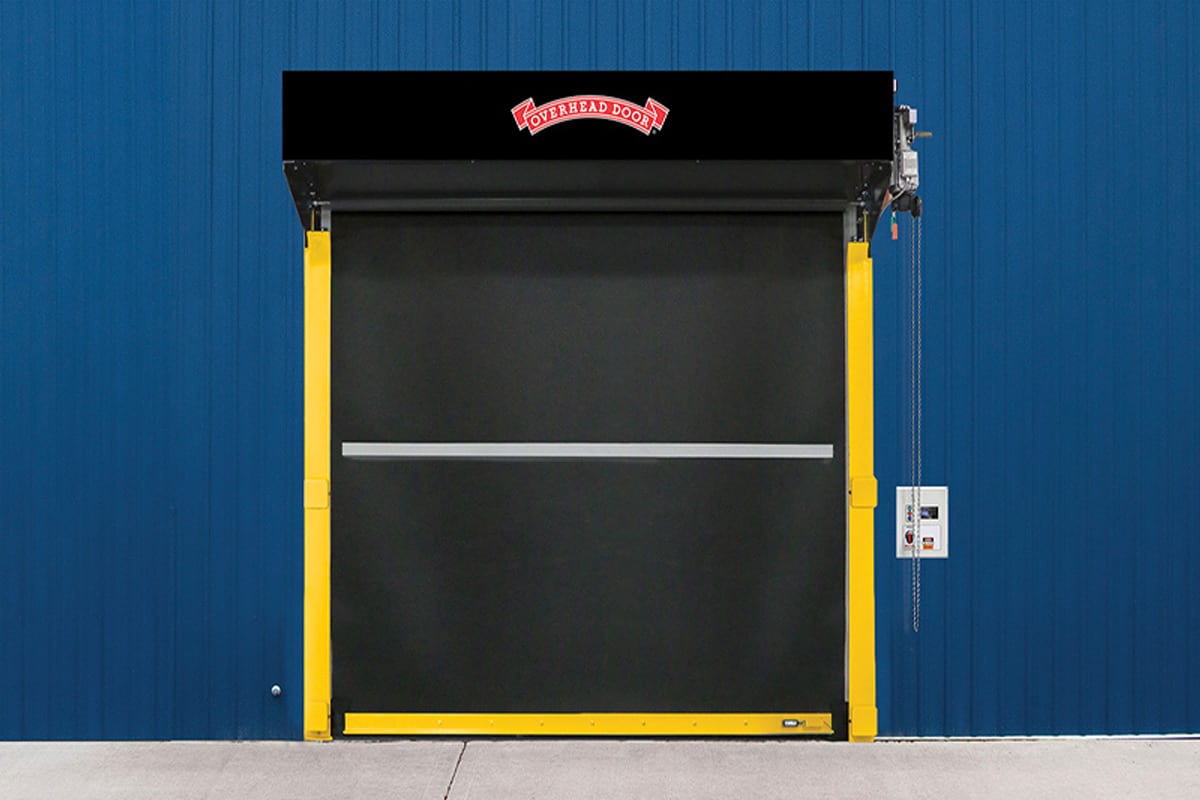 High Speed Rubber Doors
Exterior high speed rubber doors that provide rugged construction and durability for extreme environments.
Rolling Sheet Garage Doors
Attractive and solidly constructed sheet doors that are not only easy on your budget, but allow for fast installation and smooth operation.
Garage Door Designer
Instead of just guessing what your home would look like, use our online Garage Door Designer tool that lets you visualize all the different ways to decorate and design a home with overhead doors.
COMMERCIAL GARAGE DOOR OPENERS & ACCESSORIES
Overhead Door™ Brand offers a variety of openers and accessories for both residential and commercial garage doors, offering the best available integrated door system. With an emphasis on reliability and performance, Overhead Door™ Brand ensures a powerful, smooth and quiet operation.
Whether you need a straightforward garage door opener or are looking for the latest advancements in Overhead Door™ technology, you'll find it with our openers, operators and accessories.
Commercial Operators
Manufactured to meet the performance requirements of our commercial garage doors, these operators offer years of hassle-free operation.
Commercial Operator Accessories
Accessories like our Timer to Close Module, Auxiliary Output, Bottom Sensing Edge and Reflective Photo-Eye, enhance the operation of your facility.
Two Locations to Better Serve
More Inventory. More Technicians. Better Service.