FORT WALTON BEACH COMMERCIAL OVERHEAD DOORS
DURABLE. SERVICEABLE. HASSLE FREE.

Overhead Door Company of Northwest Florida™ provides commercial overhead doors to fit a variety of needs. Our knowledgeable team serving Fort Walton Beach will help you find the perfect solution for your business, from sturdy models that can withstand heavy use every day all the way up through secure systems with easy operation in mind.
New commercial overhead doors enhance security, convenience, and functionality to your Fort Walton Beach business .
A wide variety of materials are available like steel, aluminum, glass, and rubber.
Different style options ensure you will get the exact door you need.
Let us help you design the perfect commercial overhead door.
FORT WALTON BEACH COMMERCIAL OVERHEAD DOOR OPTIONS

Thermacore® Garage Doors
Our premier insulated sectional steel door – ideal for applications that need the best in thermal efficiency.
Sectional Steel Garage Doors
A complete selection of steel and insulated steel doors with the panel profiles, gauges, track styles and hardware you want.
Aluminum Glass Garage Doors
Designed for applications that need visual access and light infiltration in a handsome style. Ideal for service stations, fire stations and retail environments.
Advanced Service Doors
Designed for the most demanding requirements, these secure and durable rolling steel service doors offer the high cycles of a high-performance door.
Rolling Steel Garage Doors
With a wide range of options available, these doors ensure your sideroom and headroom requirements are met with ease.
Fire-Rated Doors
Designed to close automatically in the event of a fire, these rolling steel doors meet demanding UL and FM fire-safety standards.
Security Grilles
Our side-folding and upward-coiling security grilles offer an attractive solution for the reliability and peace-of-mind you need for your business.
Counter Doors
Overhead Door ™ rolling counter doors provide a multitude of attractive solutions for smaller openings to 20′ wide and 9′ high.
Wind Load Garage Doors
When you add wind load options to your commercial or industrial overhead door, you also get peace of mind during times of high winds from hurricanes and extreme conditions.
High Speed Fabric Doors
Interior and exterior high speed fabric doors that provide the utmost in efficiency, reliability and return on investment.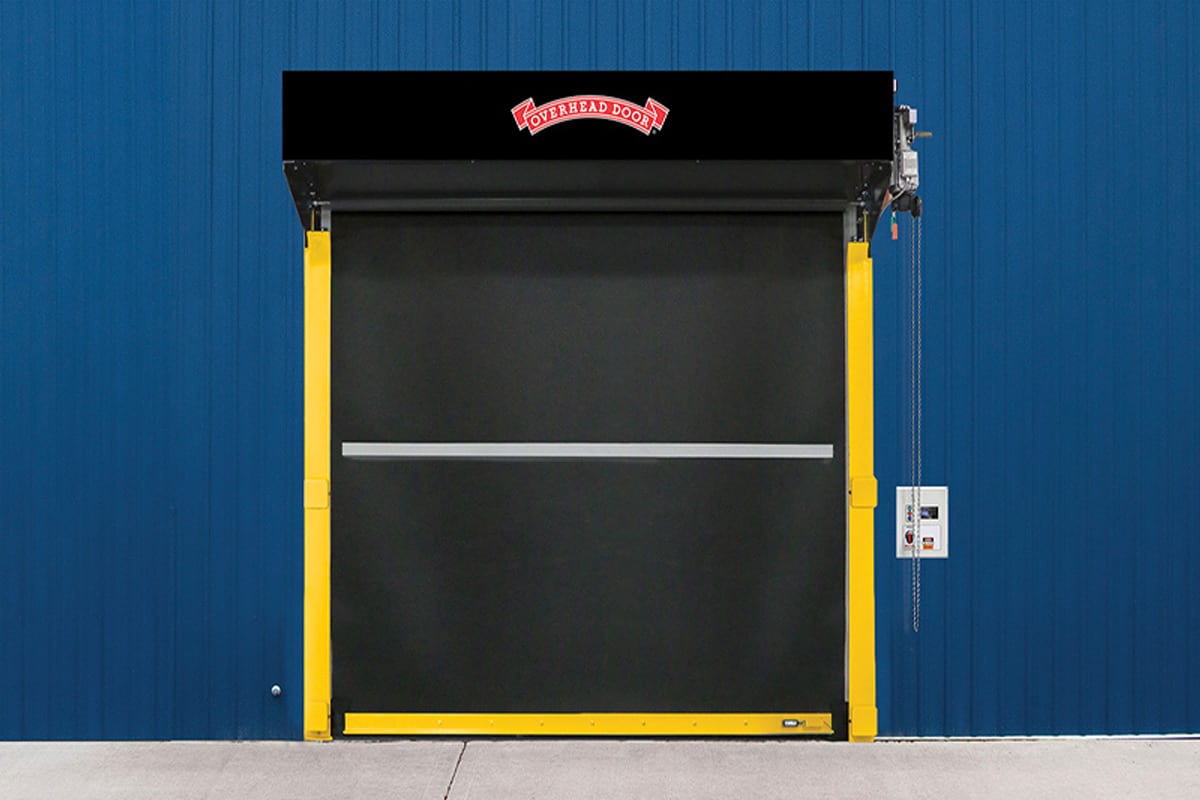 High Speed Rubber Doors
Exterior high speed rubber doors that provide rugged construction and durability for extreme environments.
Rolling Sheet Garage Doors
Attractive and solidly constructed sheet doors that are not only easy on your budget, but allow for fast installation and smooth operation.
Common Commercial Overhead Door Materials
Commercial Overhead doors, are essential for Fort Walton Beach businesses and industrial settings, providing secure and efficient access to loading docks, warehouses, and other commercial spaces. When it comes to materials used for commercial overhead doors, steel stands out as the most widely used option due to its strength, durability, and versatility. Steel commercial overhead doors offer exceptional security, with high resistance to break-ins and vandalism. They can withstand harsh weather conditions and heavy usage, making them ideal for industrial environments. Steel doors also require minimal maintenance, reducing long-term costs for businesses. Moreover, steel doors can be customized to suit various design preferences and sizes, ensuring a seamless fit for any commercial application.
While steel is the primary material for Fort Walton Beach commercial overhead doors, other materials are sometimes used for specific applications or aesthetic purposes. These materials include:
Aluminum: Aluminum commercial overhead doors for Fort Walton Beach businesses are lightweight and corrosion resistant. They are commonly used for commercial spaces that require a modern and sleek appearance.
Glass: Glass overhead doors are used in settings where natural light and visibility are desired. They are popular in showrooms, restaurants, and other commercial spaces that prioritize aesthetics and visual appeal.
Insulated Fabric Doors: Fabric freezer and cooler doors feature an insulated curtain to prevent heat loss and condensation in settings where temperatures vary greatly on either side of the door opening.
Rubber: Rubber overhead doors offer exceptional durability and insulation properties. They are commonly used in cold storage facilities and industrial settings where temperature control is crucial.
By offering a range of materials like steel, aluminum, glass, and rubber, commercial overhead door manufacturers cater to the diverse needs of Fort Walton Beach businesses, providing secure, reliable, and aesthetically pleasing solutions for various commercial applications.
Garage Door Designer
Instead of just guessing what your home would look like, use our online Garage Door Designer tool that lets you visualize all the different ways to decorate and design a home with overhead doors.
Fort Walton Beach Commercial Overhead Door Options

When it comes to commercial overhead doors, there are several styles available to meet the specific needs of businesses and industrial facilities in Fort Walton Beach. The variety of styles ensures that commercial overhead doors provide not only functionality, but also enhanced security, insulation, and durability. Here are five common styles of commercial overhead doors:
Insulated: Insulated commercial overhead doors are designed to provide thermal efficiency and temperature control. They feature insulation materials that help maintain a stable indoor environment, making them ideal for spaces that require climate regulation, such as warehouses or cold storage facilities in Fort Walton Beach. Insulated doors also offer noise reduction and increased energy efficiency.
Sectional: Sectional overhead doors are composed of multiple horizontal panels that are hinged together. They are versatile and suitable for a wide range of commercial applications. Sectional doors operate vertically, saving space both inside and outside the door. They provide excellent security, insulation, and durability.
Rolling: Rolling overhead commercial doors for your Fort Walton Beach business, also known as rolling steel doors, consist of interlocking slats that roll up and down around a drum above the opening. These doors are highly durable and provide superior security. They are often used in areas where space is limited or where frequent opening and closing are required, such as loading docks or warehouses.
Fire-Rated: Fire-rated commercial overhead doors are specially designed to prevent the spread of fire and smoke within a building. They are constructed using fire-resistant materials and are equipped with fire-rated components. These doors help protect property and occupants and are typically required in commercial buildings with specific fire code regulations.
Wind-Load: Wind-load overhead doors are engineered to withstand high wind pressures and protect against severe weather conditions. These doors are reinforced to resist strong winds, reducing the risk of damage to the building and its contents. They are commonly used in coastal areas or regions prone to hurricanes or strong storms.
The benefits of these different styles of commercial overhead doors include enhanced security, insulation, durability, and compliance with safety regulations. They are often customizable to fit specific business requirements and can be installed by professional overhead door companies in Fort Walton Beach, like Overhead Door Company of Northwest Florida™, ensuring proper installation and reliable performance.
Fort Walton Beach Commercial Overhead Door Company
Overhead Door Company of Northwest Florida™ specializes in helping Fort Walton Beach businesses select commercial overhead doors that perfectly suit their needs. By investing in a new commercial overhead door, you will enhance security, improve insulation, increase durability, and ensure compliance with safety regulations. With their reliable performance and customization options, commercial doors contribute to the smooth operation, efficiency, and aesthetic appeal of commercial spaces.
If you are interested in a new commercial overhead door for your Fort Walton Beach business and are tired of looking through dozens of overhead door companies, contact us today!
Two Locations to Better Serve
More Inventory. More Technicians. Better Service.